Coming together as a small team - either virtually or in person - you will get your teeth into the existing volunteer handbook which was updated in September 2018 and decide together what the new handbook 2021 needs to contain and what it should look like.
Do we need staff photos and names?
Do we need a couple of case studies about you and what you do?
More to the point, is the current handbook and its themes even useful to a newbie?
This challenge will start with a brew and a chat and go from there.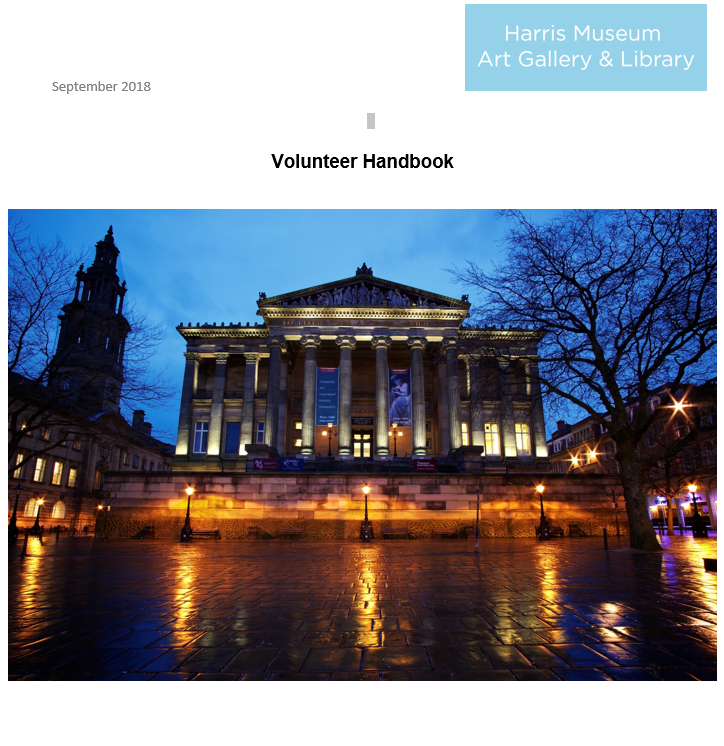 What's involved?
Meeting as a team
Getting support from each other
Doing something positive that benefits others
Being critical but constructive
Making improvements
Redeveloping the handbook as you see fit
Why get involved?
This is quite an important resource and seems even more important now that volunteers can sign up on this website without even seeing a member of staff!
It is a good chance to make your mark and put your stamp on it.
Hopefully you will start to feel back involved with the Harris after such a long break away
If you are new to volunteering then this will be a perfect opportunity to put forward exactly what you need as a newbie!
It will involve working with other staff to help with the design and also management to make sure that the resources we are creating for others are embraced by the organisation.
How to get involved?
Step 1: Sign in to your account or sign up as a new volunteer
Step 2: Accept the challenge!
Step 3: Wait for a response from the Harris team who will be in touch as soon as possible with more info
Ideal Skills
Design & Illustration
Languages
Photography
Working independently
Writing
organisation - preparation and planning
Team work
Problem solving
Communication
Eye for detail
evaluation
compassion
patience
Giving feedback and advice on services
Generating new ideas
Ideal Interests
Design
Marketing and communications
evaluation
consultation and sharing ideas and thoughts
people
Diversity and equal opportunities
supporting others
Creating resources (worksheets, trails, booklets etc)
Giving feedback and advice on services